Woo Hoo! It is FRIDAY!!! It is also the BIG day! We have gotten lots of emails that you have sent your package along with your tracking number. If you haven't already, please get your package in the mail today and send us your tracking number along with it! Try to take a picture of it before you send it. Also, please take a picture when you receive your package…that way we are SURE to see all packages!
Now to the good stuff. Today we have a giveaway from Michelle from Making It As A Middle School Teacher.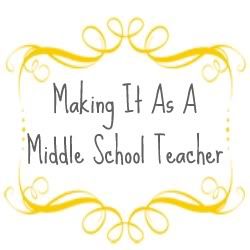 She is giving away her "The Answer Is…What's the Problem" unit. So cute! There are 28 math task cards in which it tells you the answer and you have to create a problem to go with it! This will work for SO many different grade levels!
Congrats to Mrs. Cupcake from A Cupcake For The Teacher! Be looking for your unit! Congratulations!
We hope everyone had fun! Check back soon for a linky party to show off all the craftiness!!!