Yay! Congrats to the winner of Mrs. Leeby's giveaway - Kelly from Thirsty Firsties! YAY! Thanks to everyone who entered! You will LOVE today's giveaway!
Hello, I'm Jennifer from Rowdy in First Grade, and I'm addicted to online shopping! There. I said it. Whew! I shop a lot online. Don't get my wrong- the mall is my happy place, but there is something about shopping in your pj's that's very appealing. One of my favorite site's is
Erincondren.com
.
Are you familiar with Erin Condren products? If you aren't then prepare to be obsessed. My addiction started small. I bought the teacher planner. The teacher planner is AMAZING! It has absolutely everything you need for planning, grading, calendars, etc. Then I just had to have an iPad folio. Now I have holiday labels, note cards and wrapping paper. I'm trying to justify why I must have an acrylic tray! (Surely I need it for something, right?) During the holidays we think of others, but lets face it- we teachers work hard and we love to treat ourselves. So I'm giving away a $25 gift card to Erin Condren! Happy shopping and Merry Christmas!
Jennifer
Rowdy in First Grade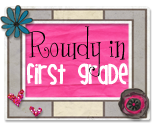 Seriously??? $25 for Erin Condren?? WOW!!!! Merry Christmas to 1 lucky winner. Are you ready to enter?
Remember: You must be a Holly Bloggy Christmas participant to enter. This means you have HBC 2012 partner and are currently working on a gift to send to them! :)
Here is what you have to do:
The giveaway ends tonight at midnight! Winner announced tomorrow!!! Have fun!