First I must say I am so sorry for lack of a post on Friday. I thought it was scheduled for that morning at 6:00AM but apparently not. I hate it that the sponsors for that day weren't posted when I told them they would be! I hope you will accept my apologies! Thanks to Caitlin for getting that posted for me along with Saturday's post as I was out of town seeing my family in Ohio!
I am back in town and ready for the last 3 days of these giveaways! Before I post today's giveaways, I want to encourage everyone to post on Valentine's Day what they received from your exchange partner. I am telling you now so you can take a quick picture and be ready to post. We will have a linky party set up on the 14th so you can show off your goodies! We cannot wait to see!
On to today's awesome giveaways. First we have Courtney from Swimming Into Second.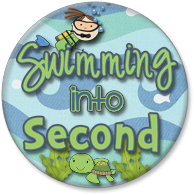 She is giving away her Valentine game pack that you can find here in her
TPT store
.
You can get that puppy ran and laminated before Tuesday! Congrats to Julie from Second Grade Style. Be looking for an email with your unit!
We also have Lisa from A Teachers Bag of Tricks.
She is giving away her Valentine Sweet and Fun unit. Another great unit to use on Tuesday! Woop! Woop! I have purchased so many great Valentines units I can fit them in! You can get your copy here in her
TPT store
.
Congratulations to Amy Patte! I am emailing your unit to you today! Be looking for it!
Our last giveaway of today is from Kim for Joy in 6th.
She is giving away a $25 giftcard to Amazon! I LOVE Amazon. They always have that random item I am looking for and for a great deal! :)
The winner is Heidi from Swamp Frog First Graders ! I'm sending your information to Lisa today! Be looking for an email from her!
We will see you tomorrow!