We are more than 1/2 way through our giveaways with lots more to give!
The first giveaway is from Vickie of Mrs. Plant's Press. She is giving away 2 units! YEAH! The winner will receive both her mitten unit AND her groundhog unit.
If you don't win, you can get your units
here
in her TPT store. Check out her blog for some great ideas.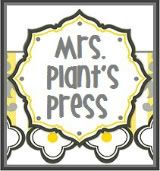 The winner is Beth Ann Kempf from Taming My Flock or Firsties. Be looking for an email with your units!
The next giveaway is from Chrissy from Buzzing with Ms. B who is giving away 2 units as well: her Fiction Pack: Graphic Organizers and Formats for responding to fiction and a Valentine's Day Graphs pack: Pictograph and Bar Graph Activities.
If you didn't win, you can grab your copies
here
at her TPT store or visit her blog by clicking on her button:

The winner of this item is Barbara from Grade Onederful! Congrats! Be checking your email as well!
The next giveaway is from Beth Ann from Taming My Flock of Firsties. She is giving away a $10 giftcard to itunes! You can get all of those songs for your classroom that you have been wanting!
Make sure to check out Beth Ann's blog by clicking on her button below:
The winner is Cheryl from Crayons and Curls. Congrats! I will send your information to Beth Ann so that she can send you card to you!

It's HUMP day ladies!!!! Only 2 more days this week! :)